Originally posted by Notesalot
Military city layouts are by far more complex than resource city layouts. Much depends on what kind of army you want, what kind of towers you build, what resources you have at your disposal, etc. My goal in starting this thread is to spark discussion about what types of layouts are effective and how they accomplish what they are meant to do. Thus, the example layouts I have created are just that: examples. If you are on the coast and have river access with lots of enemies, maybe you want more Shipyards. If you need Blessed units because you have a whole alliance bearing down on you with Mages, then you may want more Trinsic Temples. Or maybe you do not even want a purely military city. Whatever. But you get the point.
So please, when you post you city layout in this topic, state the goal of your layout, along with any preconditions that caused or limited you to building your city in that way. Likewise, when you criticize another layout, keep in mind the player's goals and limitations that the player had to work with.
The following layout was created assuming you have a main city that is transporting lots and lots of resources - primarily Food and Iron, which would be in constant trade: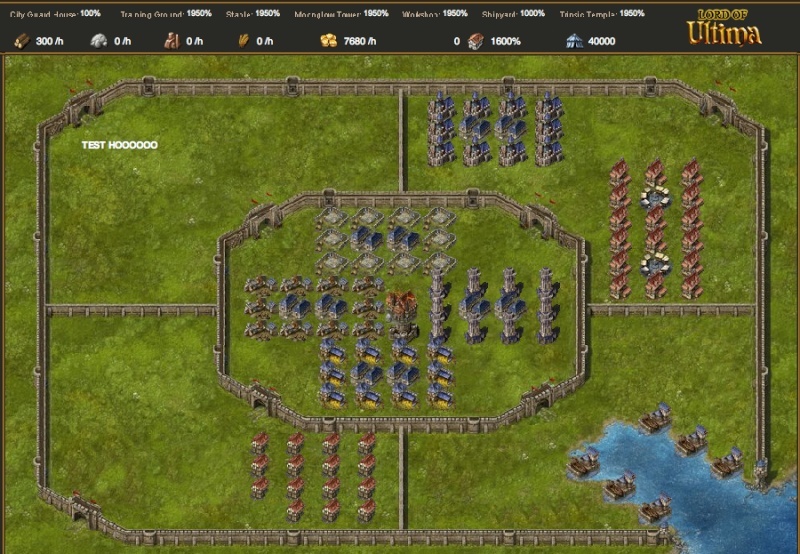 I tried to balance all 6 categories of armed forces: Infantry, Calvary, Caster, Blessed, Siege and Ship. In case you can't see it on the picture, the production rates are:
| | |
| --- | --- |
| Type | % Production |
| Infantry | 1950% |
| Calvary | 1950% |
| Caster | 1950% |
| Blessed | 1950% |
| Siege | 1950% |
| Ship | 1000% |
Also, building production rate it 1600%.
The design attempts to find the most productive formation in the smallest space. Barracks are the only things that boost unit production, so they act like Cottages in that respect. However, there are no "overboosters" (stonemasons, sawmills, and foundries) to multiply the cumulative Barrack boosts. As a result, it is more efficient to build more production facilities boosted by a single Barracks than it is to build multiple Barracks boosting a single facility. Here is the math:
| | | |
| --- | --- | --- |
| Type | Production | % Production with Boost |
| Training Grounds | 150% | 175% |
| Barracks | 1000 unit capacity | +25% to production |
Since each Training Ground (TG) boosts Infantry production by 150%, it makes no sense to surround a single TG with 8 Barracks, since that only yields 150% + 8(%25) = 350%, whereas a single Barracks surrounded by 8 TG's yields 8(150%) + 8(25%) = 1500%. In conclusion, to effectively use Barracks, you only want to build one for every 6 T.G.'s to actually do anything, since 6(25%) = 150%. Thus, the most efficient way is to build 3x3 "blocks" of a single kind of unit production.
The second formation I like to call the "Brick". It consists of 2 side-by-side Barracks encircled by Training Grounds. This model uses 2 Barracks and 10 TG's, which violates the previously established rule of 1 Barrack = 6 TG's. The reason this model works is that the middle 4 TG's are each boosted by 50%, giving an extra 200% boost which accounts for one boosted TG. While this formation gives less unit production than two "Block" formations (1950% versus 2800%), there are some advantages the Brick. You may want to use the Brick model if you want to conserve building slots, since it only uses 12 building slots as opposed to two "block" builds, which use 18 slots. Also, to balance your unit production evenly over the 6 categories, you will need to use some Brick designs, as the building slot cap limits you from building 2 Blocks for each category, since 6 x (2x9) = 108.
Obviously, this design in the picture has its flaws. For example, should this city ever be under siege, you would not be able to send Food resources to maintain your army, as being under siege blocks all trade, and your army would eventually starve. Also, you are limited by how much gold you produce. Other than the 7680/h gold production, the only way to make gold is to sell resources that are traded to this city for profit or raid lots and lots of dungeons. Also, you need a buttload of iron to actually buy units. I included the Markets and Townhouses instead of farms since gold is much harder to transfer between cities. And the Cottages are there to quickly build everything, since Barracks lack the ability to boost normal production.
I'm currently working on a model that sustains itself in gold and food, but others are welcome to post. This is just a springboard for discussion. Enjoy!

Originally posted by Ravaan
Okay I've been doing a lot of thinking on these military cities. I've biased them towards numbers of troops over construction levels, which maybe is a mistake. But I reckon you need to separate them into functions.
So a list of city types:


Defensive - Rangers, Guardians and Templar 40k of each. Ballista 3-4k. Scouts 5k.

Raiding - Recommendations? I'd guess Paladins? 80k

Assault - Warlocks - 80k

Siege - A whole mix.

I've already started building my first defensive city and stocking up the troops. With 56 Barracks + Castle, using only defensive troops, you can support all 160k troops with farms making 20k production. Just remember to put your cottages next to your farms, as they boost production.
I'm guessing that 1 of these defensive cities will be able to protect itself and a bunch of your other cities near it if you build it correctly. Imagine your enemies shock if they bump into 150k troops in one go

Originally posted by Hattusilis
I agree that military cities should specialize.
Local defense city: No Castle; slow troops to defend my castles
Support defense city: No Castle; Crossbowmen to support distant castles
Raiding city: No Castle; I too would guess Paladins
Assault city: Castle; Warlocks or Knights. Warlocks are nice, but they take a heck of a long time to build, so I'm inclined toward Knights. I like cavalry so that I can double the rate of assaulting.
Siege city: Castle; Berserkers, Rams, Barons, and perhaps a light mix of other troops.
I think that any city that can be sieged should be self-sufficient in food. Otherwise you can get away with shipping food in if your careful.
Originally posted by Ravaan
My issue with not castling your support cities is that then they just don't have enough troops. If I raid you with 80k warlocks, your 50k templars just won't do it. And you won't only have 50k templars.
Originally posted by Hattusilis
True, but defensive troops have the advantage of walls and towers. If you like, build two defensive cities for each offensive city.
The key, in my mind, is to minimize the number of targets you have to defend while maximizing your troops. If every military city has a castle, then every military city must be defended and you can't afford to have an offensive army.
Last edited by Admin on Wed May 19, 2010 8:03 pm; edited 1 time in total
*Edited*
I have just worked out that you will need the following production speeds to achieve 10 sec production time.
I actually stumbled across this through simple observation and maths.
*Base production times taken from wiki.
| | | |
| --- | --- | --- |
| Unit | *Base Production Time (in secs) | Required production speed |
| City Guard | 50 | 500% |
| Berserker | 200 | 2000% |
| Ranger | 250 | 2500% |
| Guardian | 300 | 3000% |
| Scout | 400 | 4000% |
| Crossbowman | 600 | 6000% |
| Knight | 500 | 5000% |
| Mage | 700 | 7000% |
| Warlock | 1500 | 15000% |
| Templar | 350 | 3500% |
| Paladin | 700 | 7000% |
| Baron | 60000 | 600000% |
| Ram | 2500 | 25000% |
| Ballista | 3500 | 35000% |
| Catapult | 4000 | 40000% |
| Sloop | 30000 | 300000% |
| Frigate | 60000 | 600000% |
| War Galleon | 120000 | 1200000% |
Notice that there is a direct relationship to the speed required and the base production times?
I found out that when I actually divided the base production time with my current production, I actually got a percentage that was my production speed. Then all I did was play with the figures a bit and I got the following useful formula:
Say you have a target production time you want to meet, i.e. 1 Crossbowman in 30 secs.
600 (Base Production time in secs) / 30 (Target production time in secs) = 20 (or 2000%).
So to create the above table, all I did was divide the base production time by 10 (target production time in secs).
Recruitment buildings (i.e. stables, training grounds, etc) will boost up to 150% by themselves @ lvl 10 & the max boost per lvl 10 barracks is 25%.
Now I'm off to plan with the City Planner to see how to create farms for different units.

Last edited by Pacifism on Mon May 24, 2010 10:40 am; edited 2 times in total
I don't think you can even approach maxing out a war galleon considering there is a limited number of buildings that you can put up. That said, a war galleon is roughly equivelant to 240 some off berserkers. My math on that may be slightly off, however.
hmm... i believe that my discovery regarding unit build speeds might be applicable to buildings too. But I can't be bothered with them

Jesus, nice work Paci! My ballista only city isn't entirely out of reach after all! It's just going to come much, MUCH later!


Similar topics
---
Permissions in this forum:
You
cannot
reply to topics in this forum